Assisted Living + Memory Care + Private Apartments
Woodlands Senior Living of Waterville has been recognized as Central Maine's premier retirement community since 1996. The expansive campus offers a continuum of care options through its separate and distinctive assisted living and memory care communities and its independent living private apartments, Park Residences. Each has been thoughtfully developed, featuring elegant architecture, interior decoration and furnishings unmatched by other senior care communities in the area.
A gracious and comfortable environment, our assisted living community provides supportive services and lifestyle opportunities to seniors who may require assistance with activities of daily living. Our memory care residence for individuals living with Alzheimer's disease, dementia or other memory impairments was developed from our over 20 years' experience and incorporates the most successful concepts in memory loss care. It offers family members peace of mind that their loved one is in a secured and comforting environment. Our private apartments support seniors who still want to live independently, but may benefit from assisted living services, which can be elected either as a package or à la carte.
Features:
58-bed assisted living community featuring both private and shared rooms
33-bed memory care community featuring both private and shared rooms
Private pay and MaineCare accepted
Residents receive personalized plans of care
39 independent living private apartments (Park Residences)

Studio, one- or two-bedroom apartment layouts available
Private pay accepted
Assisted living services available as a package à la carte

Specially trained and carefully selected staff available 24/7 in all assisted living, memory care or private apartment communities
FAQs
What type of accommodations are available?
Both the memory care and assisted living communities feature private rooms and shared rooms. The upscale independent living apartments with available assisted living services offer a variety of floor plans, including studios, one- and 2-bedroom apartments. Many of these apartments include special features such as patios, balconies, dishwashers and private washer/dryer.
Other features:
Private bathrooms in all resident rooms or apartments
Multiple areas for residents to engage with others, including a television room, reading room, activity room, home-style resident kitchen, formal dining room and large group activity area
A large outside courtyard with walking paths, gardens and gazebo
Onsite hair salon
24-hour emergency call system and onsite security.
How much does it cost?
Memory care and assisted living residents pay a monthly rental fee based on a daily rate for a single or shared room. Residents in the upscale private apartments also pay a monthly rental fee but with personalized adjustments made depending on the level of assisted living services elected.
What if I can't afford the monthly rental fee?
Our community has a Provider Agreement with Maine's Department for Health and Human Services which allow us to accept a limited number of persons whose residency will be subsidized by MaineCare. You can obtain information about the MaineCare application process and your eligibility by contacting DHHS' Office of Integrated Access and Support by phone at (207) 795-4300 or (800) 482-7517 or via their website at https://www.maine.gov/dhhs/
Will I have to sign a lease?
All of our Waterville communities offer a month-to-month rental agreement.
Will you accept long-term care insurance?
Some long-term care insurance policies will reimburse policy holders for residential care expenses. You may want to contact your insurance provider to determine the exclusions or limitations of your policy
What services are included in the monthly rental fee I pay?
The following services are included in the monthly rental fee:
Room and board
Daily meals and snacks
Assistance with activities of daily living like bathing, dressing, mobility, etc.
Medication administration
Basic nursing services including general health monitoring, simple wound dressing, insulin injections, etc. We are licensed as a residential care facility and therefore are not able to offer skilled nursing services such as intravenous therapy, daily injections (other than insulin), 24-hour nursing assessment, etc.
Therapeutic activity programming specifically designed to engage individuals with memory impairments
Housekeeping
Laundry
Transportation to medical appointments
How do the services you provide compare to nursing home services?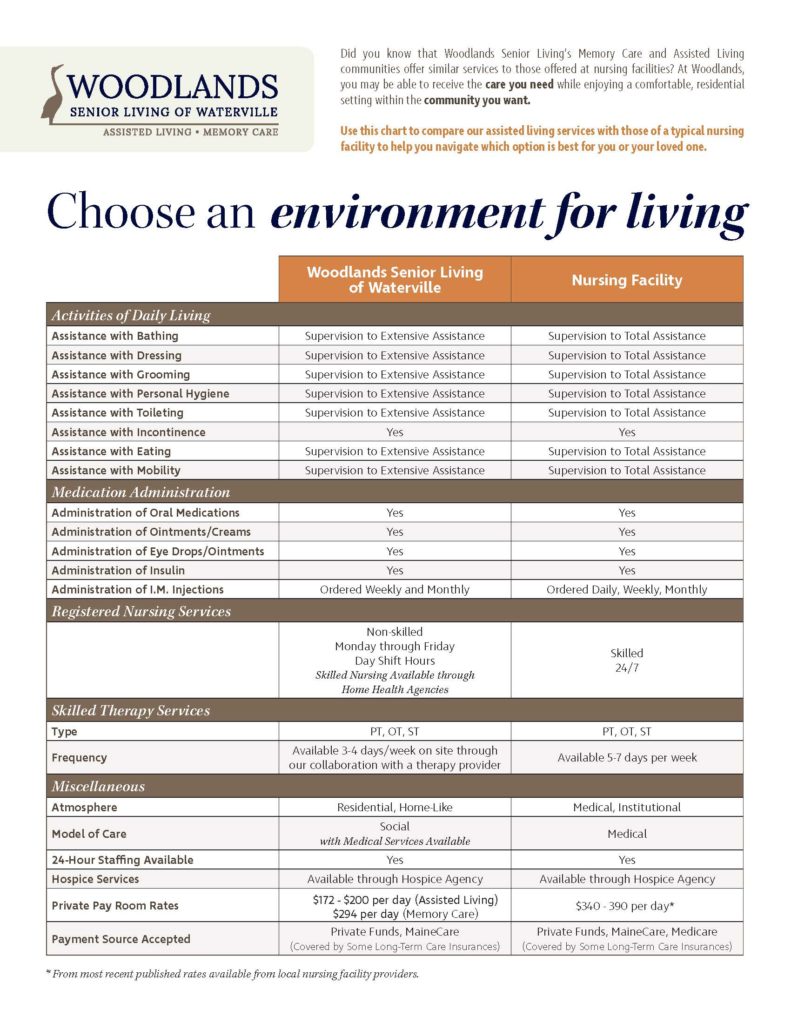 Who do you employ?
We employ a variety of personnel to assist in the services provided to your loved one, including:
Licensed Residential Care Administrator who directs the day-to-day operations of the community
Registered Nurses (RN) who are responsible for providing basic nursing services
Licensed Practical Nurses (LPN) who are responsible for providing basic nursing services
Program Coordinators who monitor and direct the day-to-day provision of progam services to residents
Activity Coordinators who develop and implement a program of recreational activities and events
Certified Residential Medication Aides (CRMA) who are responsible for medication administration
Personal Care Attendants (PCA) who are responsible for providing personal care and some light housekeeping tasks
Maintenance personnel who are responsible for maintaining the grounds and physical plant
Dining services personnel who are responsible for meal preparation and delivery
Housekeeping personnel who are responsible for housekeeping and laundry tasks
What training does your staff receive?
In addition to our own comprehensive orientation program, covering topics like fire safety, infection control, resident rights, and a variety of other topics, our staff members also receive the following training:
Personal Care Attendants (PCA) complete a 50-hour training program developed and required by Maine's Department of Health and Human Services in order to prepare them for providing resident personal care
Certified Residential Medication Aides (CRMA) complete a 50-hour training program developed and required by Maine's Department of Health and Human Services to prepare them for medication administration
We require every member of our staff, from Executive Director to dietary personnel, to complete the Alzheimer's Association's essentiALZ™ certification program. This 10-hour program provides basic and advanced training on person-centered care, the changes that can happen to thinking skills as dementia progresses, how those changes impact behavior, and how to understand behavior as communication as well as how to address physical concerns like eating, pain, wandering and falls
What if my family member needs skilled nursing or therapy services?
Woodlands Senior Living has established a relationship with a local provider who is offering an onsite program for skilled nursing and therapy services. Residents may also choose to make arrangements with an alternate provider of their choice.
How can I start the process of admission?
Please contact us at (207) 861-5685 or visit us in person at 147 West River Road in Waterville for an application. Once we receive an individual's completed application, our staff will conduct a comprehensive assessment of the individual. The purpose of the assessment is to determine what the person's needs are to ensure that we can adequately meet those needs.
What steps can I take now to ensure that I am prepared for my loved one's admission?
There are a number of things you can do in advance that will help the process of transitioning your loved one's care to a community.
If you haven't already done so, designate someone to act as the individual's legal representative, for example, a durable power of attorney (DPOA), durable power of attorney for health care (DPOA-HC) or guardian. You may want to consult with an attorney.
If your loved one will be relocating to the Waterville area from another community, you may want to seek out a local Waterville-area physician to provide her/his primary care in the future.
We will rely on you to help us become familiar with your family member. Consider creating a "life story" for your loved one including things like his/her daily routine, food preferences, activities enjoyed, nicknames, etc.