Grand opening of specialized senior living community first of its kind in the area.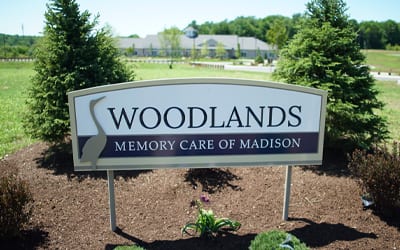 Woodlands Memory Care of Madison, the first and only purpose-built memory care community in the Madison/Skowhegan area designed exclusively to meet the unique needs of individuals living with Alzheimer's disease or related memory impairments, celebrated its grand opening Tuesday.
The 20,000 square-foot, state-of-the-art community will serve 42 residents, both those able to pay privately as well as individuals receiving subsidies from the Maine Care program, and will employ a full time staff of 30 caregivers. The community features an onsite salon, physical and occupational therapy center, and a large outside courtyard with walking paths, gardens and a large gazebo. It is located on more than 7 acres abutting the Madison/Skowhegan town line.
"We were receiving many inquiries and admitting a significant number of residents from the Madison/Skowhegan area to our Waterville and Farmington memory care communities," said Woodlands Senior Living Chief Operating Officer Matthew Walters. "We realized the need for our services in this area was more than sufficient to support the development of a new community. We are proud that local families will be able to access high-quality memory care for loved ones—closer to home."
Kelly Burns brother-in-law is a new resident of Woodlands Memory Care of Madison. He was moved from the Woodlands Senior Living Hallowell location to Madison, reducing travel time for his family by 20 minutes. "It's extremely important for people living with dementia to be connected to their families so they can stay grounded in reality and the things that are important to them. Having (my brother-in-law) close by will continue to enable us to do visits regularly. That contact with us on a regular basis is crucial," said Burns of the recent move. "We are very excited about him being there and it's a beautiful facility. The staff in the Woodlands (Senior Living) community really treat residents with respect and dignity – that's really important to us as a family."
The Madison community will be the organization's 15th senior living community, and eighth specialized memory care specific community in Maine. Woodlands Senior Living has almost 40 years' experience owning and operating senior living communities in the state, and more than 20 years in providing the families of Maine with specialized memory care.